I have really been on a sewing kick lately. I have loved to sew since the day I sat in front of my machine. It feels like second nature to me. I just haven't made the time to do it. My goal this year is to drag out my old clothes and re-vamp them into something new. I think it will be a fun challenge to help me sharpen my sewing skills and also save me money. I have a huge fabric stash so I'm sure there will be a lot of fun things that come out of it! Yippee:)
So a couple of Mondays ago I pulled out my Amy Butler "Style Stitches" book and picked the fringed hobo bag to tackle. That was the first time I have followed a pattern of this magnitude! It is by far not perfect, but I love it!!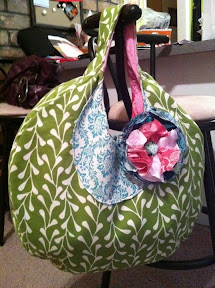 I didn't put the fringe on it and added the flower. It is a perfectly fun spring bag:). I am slightly (ok it's a problem) obsessed with coral, turquoise and army green for the spring season. If you ask the girls at work they will tell you that I won't shut up about it! Lol! What? It's cute!
So then I decided I wanted to make an elastic waist skirt this Monday. I googled and found this cute blog called freshlypicked.blogspot.com. And she had a great and super easy tutorial on how to make one. And guess what? She even shows you how to put in pockets!!
Didn't it turn out cute?? I love it! (do you also notice the coral tank and turquoise shoes?).
I love the pockets, too. It's always fun to put some happy fabric into projects:)
When I dug my fabric out for my skirt, I found some funky jersey material and decided I wanted to turn it into a fun tank top I could wear under a cardigan. So I took one of my tank tops I already had and placed it on top of my doubled material. I cut around it about a half an inch on all sides and voila! I had the two sides of my tank top. So from there I cut the front a little lower and sewed the two pieces with right sides together. I decided I wanted to embellish the front a little bit. I made a ruffle and cut a sort of "bib" shape out of some-wait for it-turquoise fabric (I know-shock!) and appliquéd the both to the front of the top. To finish I took black bias tape and finished up the top seams. For the bottom, I just folded under twice and stitched. I then dug into my button stash and found some cute pink buttons that I knew would go perfectly! Once again, this being my first attempt, it wasn't perfect by any means, but I love it just the same;).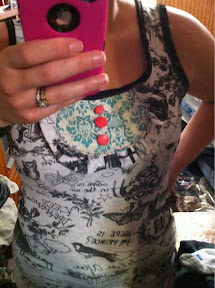 Gotta love those iPhone pictures!
I'm sew (heehee) excited to continue my sewing adventures! I have a bunch of projects I want to try!
I hope everyone has a great weekend! We are supposed to get snow today. Let's hope not! Even though it's been so dreary around here the past few days, my husband decided to bring some spring into my life. I got these at work on Thursday just because and with an incredibly sweet card. I really am so spoiled! I just love daisies:)
It's officially ONE week until my half marathon! I'm super excited and really nervous! I can't believe it's almost here!
- Posted using BlogPress from my iPhone