Today I had the cutest little client in the salon and she had the most darling zebra purse that her friend made for her. And guess what! It was made with duct tape!
Whaaaaatttt you say?
Yes, duct tape and guess what else. I must have one!
So I came home tonight and got out my turquoise duct tape I bought last week and went to YouTube. And I made myself a wallet. With a latch. And a bow. And if I had packing tape (which I probably do somewhere) I would have put a little see through window in it too. I am sooo getting some more fun colors and mastering the art of duct tape!!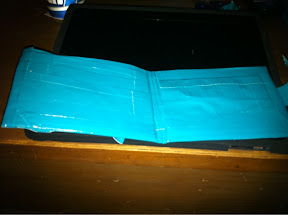 Sorry the pictures aren't that great but I'm tired!:)
How fun is that??!!
Also, our friends had their baby girl today! Isn't she so sweet? She looks just like big sister Kenadie!:)
Happy birthday Bostyn!!:)
- Posted using BlogPress from my iPhone