Not really but I do wish I were sometimes! This is my day 2 picture: what you wore today.
Thus the title. If I can't be one, at least I can look like one:) And watch them on ABDC!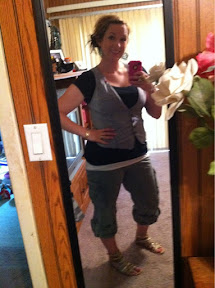 Here is day 3: clouds
Today was an absolute gorgeous day here and there wasn't a cloud in the sky! So, I'm using this picture of the sky I took on Sunday May 22, 2011. This was right after some terrible storms went through our area. The picture is unedited and taken with my iPhone. It also happened to be the night of that terrible EF5 that went through Joplin. It is amazing how beautiful the sky can be after something so wicked. We are still praying for the courageous people of Joplin that they may find peace in God's love!
By the way I've decided to all my pictures on my iPhone. I think it will make it more fun. Plus I don't have one of those fancy dancy big time cameras. I'm praying the camera fairy brings me one soon:) lol
Hope you have a great weekend!!
- Posted using BlogPress from my iPhone