I've been quiet this week because we were actually on a mini vacation down at the Lake of the Ozarks! The hubby had a conference, so the kids and I joined him and I am so glad we did! Not only was it nice to get away, but taking the time to relax and enjoy my family was soooo needed! I am so tightly wound (not me...lol) and I needed this week to show me how to relax and appreciate all of my blessings! I easily get caught up sometimes and forget to take one moment at a time. So I'm thankful for the time away:)
So because I took a bazillion pictures, I'm gonna break it up into a couple posts:)
But first, Saturday was not only our anniversary, but the birthday party for our little friend Kenadie. The party included two bounce houses (one had a slide) and a sno-cone machine! How could we pass that up?:) It was a kid's dream and honestly a little bit of mine too. Lol.
The birthday girl:) How darn sweet is she???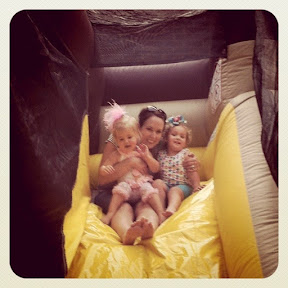 Kenadie, me and Reesie girl. Yep, I went down the slide, too!! I couldn't resist.
My handsome boy. Notice the soaked shirt? They played hard!
Jordan and Jayden(my best good friend's darling sons) and Ry posing for the camera:)
Reese and cutie Chase:)
We had a great time and enjoyed the party. It's always fun to watch your kids get so excited and play!
I'm off to bed now, but more about our week tomorrow:)
PS- did you notice how I posted this? My husband sure spoils me rotten!!:)
- Posted using BlogPress from my iPad