I have slacked in posting this weekend, but only because I have spent the whole weekend with my sweet little family:) More on that later. But first, here are the pictures from days 10,11 and 12.
Day 10: Childhood memory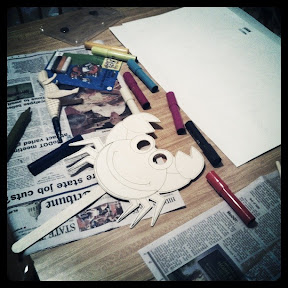 One of my favorite things as a child comes as no surprise at all. I loved craft time!! I still love craft time, duh!! My mom told me that when I was little I had to have every single crayon and marker in every single color. And I'm still that way! Even my planner has all different colors in it:). So, Friday night the kids and I had craft night. I used to love those days with my mom when I was little! She is an incredible artist and I wish I had half of her talent!
Day 11: something blue
My favorite water jug of all time! My camelbak that my sweetie bought for me while I was training.:) Yeah. I know. I know. I'm still trying to get motivated. Ugh I'm such a slacker!
Day 12: Sunset
I just took this off the back deck and am so grateful that we had such an incredible day today! God is so good!:)
We had a wonderful weekend. Like I said, Friday night the kids and I had craft night while Lee was at work. We wished he was home to help, but the kids were super excited to show him their works of art:)
Saturday we had a garage sale which was actually kind of slow. I was so surprised because the weather was really nice. That's probably the reason it was slow. It has been CRAZY hot here, so I'm sure everyone was out enjoying the beautiful cool 70 degree weather!
And today my husband and I enjoyed 9 holes of golf together. I'm still terrible, but I did have a great time and am trying to find my comfort zone. And we had another beautiful day with 70 degree weather:)
Hope you all had a great weekend!
- Posted using BlogPress from my iPhone