I am behind in my day pictures, so here they are:)
Day 13: Yourself with 13 things
So I don't know if this counts, but I'm going to make it count! We had bunco last night so what's better than me with those 13 dots on the dice! It was fun but I didn't win anything :(
Day 14: Eyes
These belong to my Pootie pup. She is a 9 year old golden retriever that has a heart of gold:)
So yesterday the kids and I went to the library. Rylee got his very first library card and got to check out 4 books! He was so proud.
We played with the toys first and then looked for books.
As we were getting our library cards, Reese decided to be a terrible two year old. Lol. I will spare you all of the details but it involved stickers being stuck to shelves, running around in two stacks and me trying to put my car keys back together while trying to wrestle her from running away again. Oh and a hairbow thrown 10 feet.
Once I gathered my things, children, thoughts and composure we went to the art room and used recycle-able art to make daddy a couple piggy banks.
(Yes the hairbow was back in, but look at that face. Not happy!)
So needless to say, the trip was unfortunately short lived. There's always next time:)
So today after running around doing errands I came home to do laundry and dig into this fabric I got last week. I fell in LOVE with it.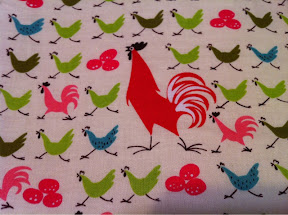 I'm really not a chicken person but the color and print totally caught my eye. So I made this little sling bag.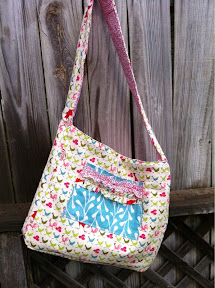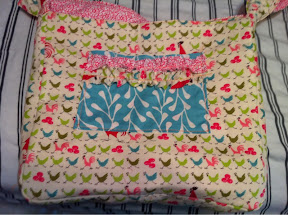 I love it!! I have been wanting a sling bag for a while and am so excited about this one! Yay for my little chicken littles!:)
I also made a cute jean skirt out of a pair of jeans I don't wear. But, more on that later!
Happy Tuesday! Toodles!:)
- Posted using BlogPress from my iPhone